Why wood
WHY WOOD?
There are several reasons for choosing wood. Wood is beautiful, light and durable for making things, and warm and comfortable to live around. Also the fact that Sweden is a forested country provides us with a great opportunity to be part of the solution to important climate and environment issues. Wood is renewable and climate-friendly. When you use products made of wood, you too play an important role.
Wood captures CO2
Climate change is primarily due to carbon dioxide emissions. Using wood can help decrease the emission of carbon dioxide, CO2.
"Our forest grows with around 125 million cubic meters per year and thus captures approximately 110 million tons of carbon dioxide. Swedish emissions equal around 55 million tons. Our forest stores twice the amount of the emissions." Christer Segerstéen, Chair of the forestry association Södra.
The carbon dioxide is stored in the tree in the form of carbon, a base element. The more forests grow, the more carbon is stored. In addition, the process of photosynthesis produces oxygen that we need to be able to breathe. In one year, an average-sized birch releases approximately the amount of oxygen that one person needs that year. Wood captures carbon even after the tree has been harvested. The carbon remains in all the products for which we use wood. Therefore, logging is also an important part of the life cycle. If we do not use the trees, but allow them to die and molder away, the captured carbon is released again into the atmosphere in the form of carbon dioxide.

Did you know that... - An informative film from CEI Bois (the European Confederation of woodworking industries) about wood in Europe.
Tackle Climate Change - use Wood! – An informative film from Skogsindustrierna about the forest and the climate.
The forest will stay
Many people think that the forest is about to disappear. This is not the case. For each tree that is harvested in Sweden, at least two new trees are planted. Rules for reforestation were established in the early years of the 20th century in the first Swedish forestry law. The growth rate of our forest is larger than the harvesting rate, which means that the total amount of timber increases steadily. The increase has been ongoing since the 1920s, and we have twice the amount of timber in our forest today compared to the situation 100 years ago. 70% of Sweden's surface (land area) is forested. If the forest is well taken care of, wood is an infinite resource. The future literally grows on trees!
The forest industry is important
The Swedish forest is the foundation for the forest industry. The forest industry is by far the greatest Swedish export sector with a net export larger than that of any other industrial sector. Sweden ranks as the world's second largest exporter of timber products, the third largest exporter of pulp, and the fourth largest exporter of paper. The production value of the forest and wood industry in Sweden is more than SEK 200 billion and the industry employs around 58 000 people. The forest industry, then, is a mainstay of Swedish economy and one of Sweden's most important basic industries offering job opportunities across the entire country. However technology development is crucial to maintain the international front position as a forest industry nation and to lead the way to a sustainable society. New wooden materials, new production techniques and new ways of refining this fantastic resource must to be developed so that more value is created.
BioInnovation
BioInnovation is a national strategy program in Sweden to develop strong, competitive and innovative materials, products and services based on renewable raw materials such as wood. The vision is that Sweden has switched to a biobased economy in 2050. Within the program companies, organizations, universities and institutes in Sweden are now working together with a lot of exciting projects such as:
Swedish wooden textiles
Wood-based fuels
Wood-based materials for 3D-printing
Food made of wood
etc.
Here you can read more about the ongoing project within the programme:
http://www.bioinnovation.se/projekt/
Now more new and more industries that have not been using wood seethe its potential in wood, especially for these new wood-based materials. One example is the automobile industry:
http://traomobelforum.se/mer-tra-i-framtidens-bilar/
www.chalmers.se/sv/nyheter/Sidor/framtidens-bilar-ar-av-tra.aspx
Examples of New wood materials
A lot of new wood-based materials are being developed. Refined massive wood material, wood based composites, wooden textiles, wooden chemicals and wood based fuels.
Do you know that you can dress yourself all in wood?
Or do you know that some plastic-like materials are actually made of wood?
There are so many new and exciting wood-based materials to write about. Here are some examples below.
Wooden textile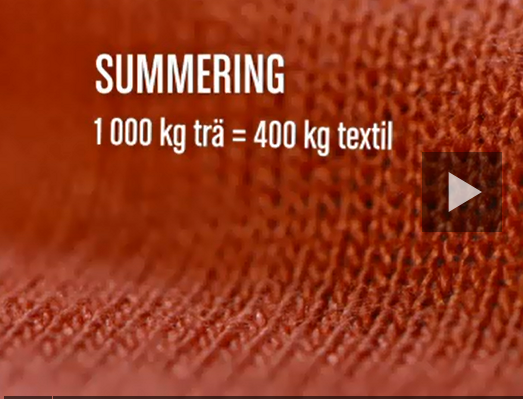 Wood fiber is rapidly turning into an important part of textile production globally. The technology used to manufacture fabric out of wood fiber is not new, but has enjoyed a boom lately. The demand for fabric increases at the same time as growing cotton puts great pressure on the ecosystem. This is why producing wood fiber for making fabric has once again become an interesting area for pulp producers. More information:
www.innventia.com/sv/Det-har-kan-vi/Nya-material/Specialcellulosa-for-textilier

Click the image to see a clip about making viscose out of wood material (in Swedish).
Biocomposites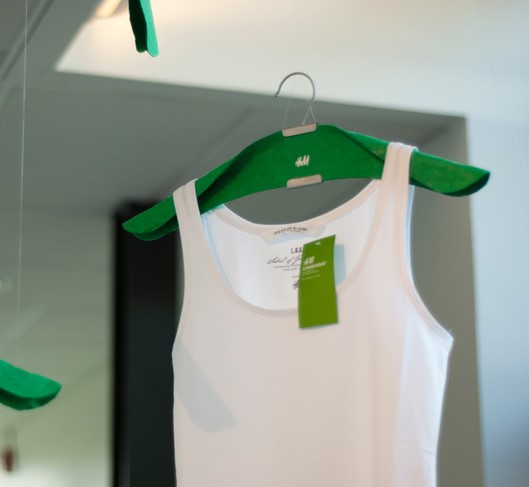 A number of new wood-based composites are available on the market today. These are wood-based composites with blended-in biopolymer (plastic). Take a look at the biocomposites Durapulp, UPM ForMi and Werzalit, and you will get an idea of where this development is taking us:
www.sodra.com/sv/Massa/Vara-massaprodukter/Kompositmaterial/DuraPulp
www.upm.com/formi/Pages/default.aspx
http://werzalit.com/de/s2-holz-polymer-werkstoff-wpc.html
Tall oil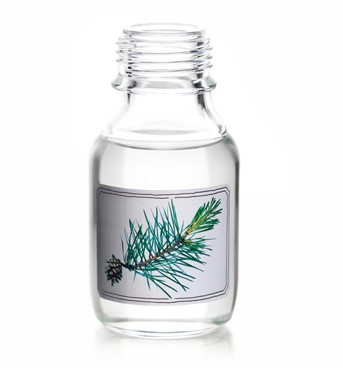 Would you like to fuel your car with raw pine diesel? Tall oil, a residue from the pulp and paper industry, is the source material for producing raw pine diesel which is finally turned into green diesel, so-called Evolution Diesel. Green diesel helps decrease your fossil fuel carbon dioxide emissions due to the fact that it is partly based on Tall oil. The product was launched in the spring of 2011 using 20% renewable raw material. Starting in May 2013, it is made of up to 35% renewable raw material. When you fuel up your car with Evolution Diesel, you decrease carbon dioxide emissions by up to 31%. Read more:
http://evolution.preem.se/evolution-diesel
www.sunpine.se
Weblinks
See below for a number of weblinks to swedish research institutes, organizations, and companies that work with wood in many different ways:
EkoPortal 2035 - www.ekoportal2035.se - Ekoportal2035 visualizes an environment which is created from renewable source materials and products, such as wood, as far as possible. It offers an exciting vision of the future which centers on bio-based materials.
SVENSKT TRÄ - www.svenskttra.se - Promotes the dissemination of knowledge, inspiration, and development in relation to wood, wood products, and wood construction.
TräGuiden - www.traguiden.se - A webpage which offers technical information about wood and wood construction.
SP Trä - www.sp.se/sv/units/wood - A research institute which conducts research and promotes development in relation to wood.
Eco Build - http://ecobuild.se - Competence Centre for eco-efficient and innovative wood-based materials.
Innventia - www.innventia.com - A research institute which deals with innovations based on raw materials from the forest.
TMF, Trä- och Möbelindustriförbundet - www.tmf.se - TMF is the trade and employer organization for the entire wood processing and furniture industry in Sweden.
Forest Stewardship Council, Sverige - http://se.fsc.org/ - An international membership organization which works for the responsible use of forests globally.
UrNatur - http://urnatur.se/sv/ - A conference center and hotel in the woods which must be experienced! Entirely based on sustainable forestry and a sustainable lifestyle.
Allvar underware - http://allvarunderware.com - luxury underwear Made of swedish wood
Täljogram - http://www.taljogram.se/ - Where your interest in wood carving can be developed in your own pace.